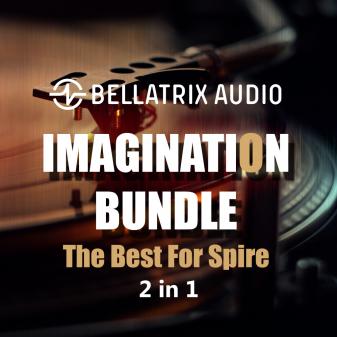 Products inside bundle
Description
Bellatrix Audio are proud to present the 'Imagination Bundle' For Spire
Whats In The Bundle?
* IMAGINATI0N
100 presets for Reveal Sound Spire
The new sound bank "IMAGINATI0N" is suitable for most popular styles and genres of today producing: pop, electro, trance, edm, synthpop, even a soundtrack! The pack contains 100 groundbreaking professional sounds by N0_TiTLE, most of all can be tweaked by new mod knobs of SPIRE v1.1, so you recieve more than100 sounds, depends your imagination! You can turn pad to bass, bass to lead or a pluck and so on!
* IMAGINATI0N VOL.2
128 presets for Reveal Sound Spire
This bank is full of amazing sounds, great for EDM, trance, house, synthpop, soundtrack and other! You can check for audio demos. So, we have 34 bass sounds, 29 leads, 16 pads, 16 plucks, 8 FX sounds, 11 ARP sounds, 9 Keys sounds, and 5 drums sounds. Almost all presets can be tweaked by MOD knobs and MOD wheel. Supported Spire v.1.1.3
Note: For more information about each pack, see INFO.
other products from this label